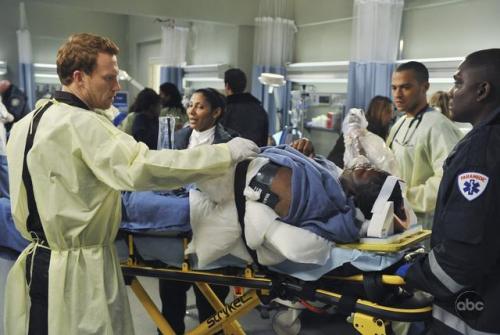 Valentine's Day can be a traumatic for many of us, but Grey's Anatomy upped the ante big time last night, with a roof collapse and on a more personal level for many doctors.
Still, the possibility of reinvention carried the day. Click here for our official recap (plus quotes and music) from last night. Below is our review of "Valentine's Day Massacre" ...
DEEP IMPACT: When a restaurant's roof caves in, the casualties are many, and the effect they have on our characters wide-ranging. An injured waiter quickly slips Alex $50.
Why? To be in a room next to a woman he has served, and been in love with, for 15 years. He confesses he thinks she's in an unhappy marriage as he's loved her from afar.
She's awake and she's heard everything he said.
Alex and Meredith take bets on what will happen, while gossiping with Cristina about marriage while eating chocolates Alex took from a guy in a coma. Pretty funny scene.
To Read More Click Here