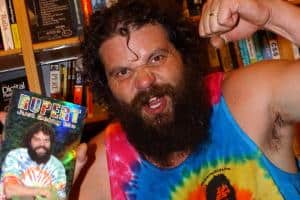 Honestly, this could've been some local news story on a burglary on the offices of a non-profit organization, but instead it appears on a television website, because it involves Survivor's Rupert Boneham.
No, he didn't steal anything. Fact is, he was the one who was stolen from. His charity, to be exact: Rupert's Kids, a charity based in Indianapolis that helps troubled youth get back on their feet. The burglary was last week; taken were $5,200 worth of electronics, including televisions, laptops, and a DVD player. A pair of designer sunglasses were also stolen.
Police say an employee arrived for work and noticed that some smashed the door open with bricks. Apart from a broken door, everything was in order, according to Rupert's mom Georgette: "Everything was taken pretty neatly, actually."
The one thing they feel bad about is the significance of the stolen equipment. "We're trying to help them transfer their lives from kind of a restless, wandering illegal person to someone who is self sufficient, a contributor to society who is independent who is making a legal living," she said. "The computers are a source of a lot of things, not only learning computer work, but learning how to find bus routes, learning where GED classes are held."
Also in the missing equipment are the organization's contacts, which they use to help the kids they take in. While it's possible that insurance will replace the products, the contacts are obviously another thing.
Rupert launched the charity after 2004's Survivor: All-Stars, when he won a surprise $1 million prize after viewers voted for him. In case you forgot, it's Amber Mariano who won the actual competition.