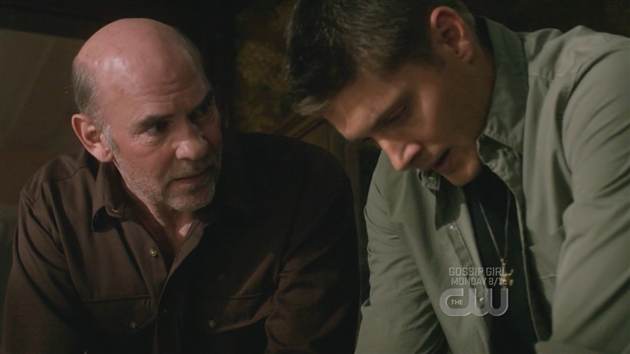 Supernatural is back, and ready to tackle a new crop of things that go bump in the night. A lot has changed for the Winchester brothers, and for the show itself as creator Eric Kripke has stepped down from the show runner role, handing over the reins to longtime writer and producer Sera Gamble. In addition, the task that Supernatural's sixth season faces is not an easy one. The storylines of the last few years have been able to build on the previous season, escalating the mythology to the apocalyptic Season 5. After an apocalypse, it is understandably necessary to bring things down a notch, and this season finds our heroes back to the more fundamental job of hunting down monsters, the first being a Djinn.
It is appropriate that the other episode in the show's history to feature a Djinn was Season 2's excellent "What Is and What Should Never Be", where Dean was given a dream version of a normal life, complete with a girlfriend and a regular job. In "Exile on Main St.", Dean is settled down with Lisa and her son Ben, working a construction job, golfing, and going out for beers, for all intents and purposes a regular guy (except for the gun under the bed, of course). The montage at the beginning of the episode contrasting his current life with his past as a hunter is beautifully done, succinctly summarizing the change Dean has undergone. Jensen Ackles has developed the character of Dean well enough that although he appears to be content, an underlying sadness remains for all that he has lost.
To Read More Click Here.