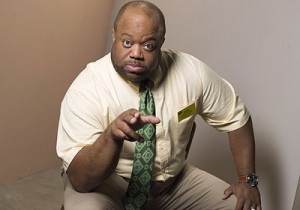 The much anticipated and fan-saved Chuck returns (finally!) this coming Sunday with it's season premiere, and then the following night moves into it's regular timeslot on Monday night. If you can't quite remember where we left off last season, be sure to check out "Chuck - Where We Are. Where We're Going" right here at TVOvermind.
Sci-Fi Wire recently spoke to Mark Christopher Lawrence, who plays the Buy More's (ex)Manager Big Mike, and got some great scoop on a few things to expect on Chuck in regard to the Buy More, Big Mike, and the fate of his Marlin.
When asked if Big Mike would be reclaiming his manager's position at the Buy More, Lawrence teased right back with, "Well, you've got to watch the first episode." So does this mean Big Mike might be back in charge right away? Sure sounds that way.
As for Big Mike's relationship, Lawrence said, ""When we left off last season it was still going with Morgan's Mom. So far we're just kind of hanging on to that story She's funny. Patricia Rae is hilarious."
But what of the fate of the glorious marlin that hung on the wall behind Big Mike in his office? "Yeah! The marlin Remember the last episode, the marlin was in the TV room when Big Mike sort of was demoted? He gets sort of moved into the TV room, and that whole sort of mafioso, Marlon Brando thing that got lost somehow. The marlin was set up in the TV room. So it's still there."
Although Lawrence couldn't reveal much about the two-hour premiere this Sunday, he did seem eager to learn of the fan's reactions after the episode. He finished up saying, he did say this, "Well, things have been flipped on their ear. And life in the spy world and in the Buy More is not as it was left in the last season. So it would be nice to get everybody's opinion after the fact."