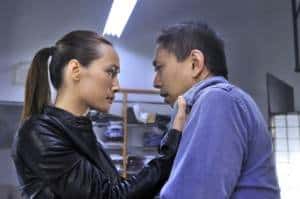 The one element I've constantly said has been missing from Nikita is character depth, and with tomorrow's episode, Rough Trade, we finally get it in the form of some much-awaited backstory for the major players. I've got an early review for you today, before you can see it for yourself tomorrow night at 9 PM on The CW.
Rough Trade takes a different tack in that Nikita isn't trying to screw up an existing Division operation, but rather trying to make amends for what she did on a previous one while in their employ. It's another welcome departure from the formula in the first few episodes. Nikita meets with Lisa, the widow of a Homeland Security agent named Victor that she murdered on Division's orders. She's out to finish what Victor started by taking down the Triad, a major supplier of slave labor to major fashion houses (no doubt, having a mutual relationship with Division in the same way we saw with the war criminal in 2.). As Maggie Q is herself a former model, fitting into the fashion world is easy for Nikita.
To Read More Click Here.