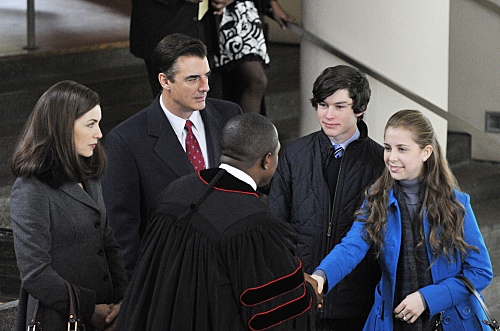 The Good Wife is simply a quality TV show.
After a few weeks off the air, the show returned with "Boom," an episode that tackled a number of mature, global topics, while concluding with a dramatic scene that grounded it in the relationship between Alicia and Peter. Just great stuff all around.
Before we get to the Florricks and Alicia's fateful two words to her husband (It's over), let's start with the impressive range of subjects the hour took on, all without batting an eye or dumbing anything down for viewers.
There was affirmative action, as Julius played that card to maneuver himself into a raise at Lockhart and Gardner; religion, both in terms of Peter's attempts to change and the newspaper running a cartoon depicting the prophet Mohammed; the economy, as the firm deals with cutbacks and a questionable future; the state of newspapers, with an editor admitting he must keep up with the Internet.
To Read More Click Here.