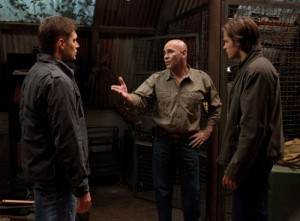 Oh my God. Seriously? Are you trying to kill me, Supernatural? You're putting two hot guys and a ridiculously adorable baby with chubby cheeks into the same episode? GAH. There's only so much one woman can take, you know.
Earlier this week we posted a sneak peek for the upcoming October 1 new episode of Supernatural. Now Canada's Space Channel has a second one to share with us - only this one features the baby that's going to show up in the episode (ie. the half man portion of the episode title). I've got high hopes for the hilarity of this episode, which is only bolstered by the fact that it's been penned by funnyman Ben Edlund. Check out the Space sneak peek below and check back on Friday night for our review.
To Read More Click Here.