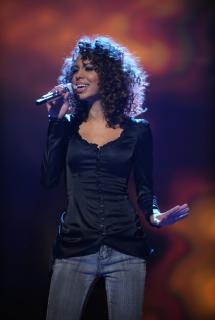 After the first night of American Idol live performances, we feel the need to remind the judges of something:
You chose these semifinalists!
Almost half of the women selected by Simon and company (Didi Benami, Lilly Scott, Crystal Bowersox, etc.) impressed with their guitar-playing and quiet vocals. In the mold of Taylor Swift, these aren't performers that are gonna blow you out of your seat.
Yet Cowell kept insisting that the contestants do exactly that. Everyone wants to see first-rate auditions, but the judges seemed to be asking for versions of songs that the semifinalists they chose simply weren't capable of.
It's early, of course, and there's plenty of directions in which this season will go. It was just bothersome that Simon didn't appreciate the singers last night for who they were.