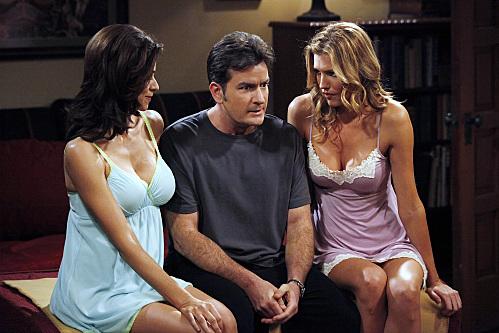 So this season has been a little disappointing with Charlie's engagement to Chelsea, but last night we couldn't think of a single complaint about Two and a Half Men. The episode featuring Tricia Helfer in a sexy nightgown with Chelsea may have had something to do with it.
The episode also featured several inner monologue bits that revealed just what Charlie is thinking and to be honest it was almost as scary as it was funny. Alan took the cake though with his "Gorp. Fnark. Schmegle." thoughts, while not even saying an actual word to Gail.
However, the line of the episode went to Berta. Just check hers out and the rest of our favorite Two and a Half Men quotes:
Charlie: I gotta figure out a way to get Gail to leave on her own.
Berta: You got the perfect tool for the job.
Charlie: What are you talking about?
Berta: The one tool that's guaranteed to drive any woman out of the house.
Alan [entering the room]: Hello.
Berta: Oh look, it's an Alan wrench.
Alan: There is a very good chance a woman like that is tired rich, handsome, successful guys that have their own homes and recently built cars.
Charlie: You really believe that?
Alan: I have to.
Alan [about Gail]: I felt a little spark between us
Charlie: If there was a spark it's because she was warming up her taser
Jake: Do either of you guys urinate with abnormal frequency?
Alan and Charlie: No.
Charlie: I mean, you gotta define abnormal
Alan: Keep in mind the body doesn't process alcohol efficiently, which is why your Uncle Charlie is a perpetual urine machine
Charlie: Also keep in mind your father has the bladder control of a frightened nine year old girl, which is why he needs to wear two pairs of undies and a panty liner
Alan: Only on long drives