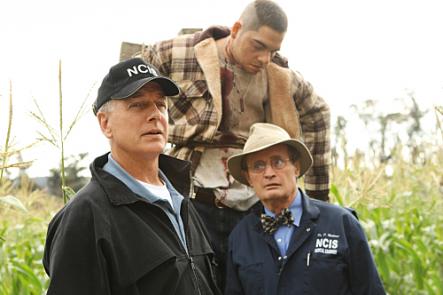 If the goal of last night's episode of NCIS, "Child's Play," was to show the softer side of Gibbs, it only partially worked. If we were supposed to believe that the government really trains 12-year-olds to crack military codes, that was a bit of a stretch as well.
As usual, though, these gripes are secondary to thanks to the fast-paced action, funny and thought-provoking dialogue and terrific characters that always make NCIS click.
When the body of a dead Marine is found a cornfield, it's got all the makings of a gang retribution killing. But it turns out that was just the killer's front, to pin it on them.
The NCIS team's investigation quickly leads to a government think tank that felt a little hokey - having kids play video games to help craft and improve military strategy?
We're not buying it, but perhaps that's why we're writing this for a living and weren't embedding complex military codes into our artwork at age 12, like super-cute Angela.
Gibbs discerns that this young girl is the target of the killer of the Marine after Abby learns she codes messages in her paintings. Codes being sold for tens of thousands.
To Read More Click Here