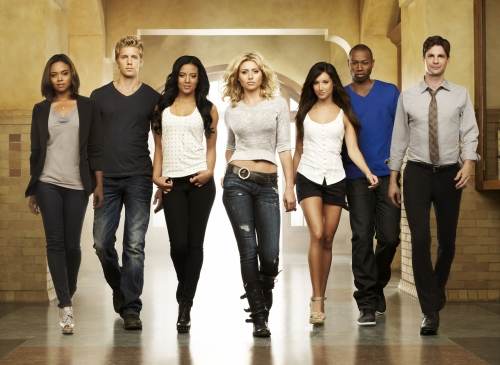 Despite the fact that I watch more CW shows than any 30 year old woman probably should, I suspected that I wasn't exactly the target audience for the network's new show, Hellcats. So when it came time to watch the original pilot (which has since been re-cut), I sat down with my teenage cousins to get their opinion. While they weren't very good at articulating their reasons, they both said they liked it and I was pleasantly surprised that I did as well.
The set up of the show is pretty simple: Marti Perkins, a pre-law student at a university in Memphis recently lost her scholarship (despite the fact that her scatterbrained mother is a university employee. In order to remain in school, Marti puts her amazing gymnastic abilities to good use and tries out for a recently vacated spot on the school's award-winning cheerleading squad, the Hellcats. Of course, nothing is ever that simple, and Marti has to deal with a needy and alcoholic mother, a best friend who's starting to feel neglected, a peppy head cheerleader, rivals on the squad, a new potential boyfriend and the fact that the squad's funding may get cut.
To Read More Click Here.