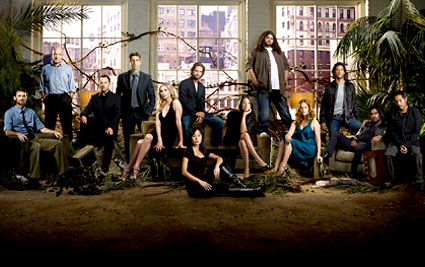 "It's gone. You don't have to worry about it any more."
This is what Lost boss Damon Lindelof promises me after tonight's two-hour season premiere, in which the island claimed its latest casualty: Junkie Jack's scruffy facial rat's nest. (Hooray for Bic razors!)
Of course, it's that other apparent casualty who's really got us worried (the Lostie who's bloody knocking on heaven's door), not to mention the blast from the past who appears to be Daniel Faraday's mother, the revelation that Desmond is the key to everyone's survival and so much more...
Want to know what you may have missed in tonight's episode and scoop on what will go down next?
Of course you do, so light-flash on in here...
* What We Learned
Charlotte and Daniel Have Been Doing the Nasty! How else would you explain her headaches, nosebleeds, food cravings ("I figured we could use a bite") and forgetfulness ("What's my mother's maiden name?")? As someone who has suffered all these symptoms in the past seven months I can tell you precisely what is wrong with our girl Charlotte: She's pregnant! Either that, or the island is working its seriously bad mojo on her increasingly fragile noggin, and she'll appear dead within the week. See, you're rooting for my ridiculous prego-theory now, aren't you?
For more Read here