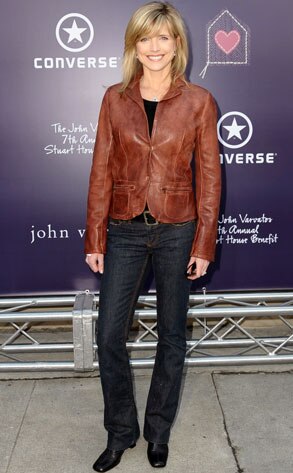 Will the new Melrose Place (Ashlee Simpson-Wentz included, natch) feature some old-timers?
While Heather Locklear may be having conversations with producers to return as witch-in-heels Amanda Woodward, it's unclear who else may or may not have already been approached for a resurrection.
"I think it's really for the younger generation," Courtney Thorne-Smith, who played Allison Parker on MP, told us yesterday at the John Varvatos seventh annual Stuart House benefit in West Hollywood. "I don't think there's much place for us old folks."
But that doesn't mean Thorne-Smith wouldn't consider an offer if one came through.
"It's not something I'm looking for, but I never say never to anything," she said.
If nothing else, Thorne-Smith would love a reunion show. "I run into [former costars], but we haven't got together or anything," she said. "I really wish we would, though, because that would be so much fun. Years ago, Fox did a reunion show with 90210. They should really do that for Melrose - But we all have kids now, so we'd have to do it at Chuck E. Cheese or something."
In the lastest MP casting news, the CW confirmed this morning that Ashlee Simpson-Wentz has signed on to play sexy fresh-off-the-bus Violet Foster.