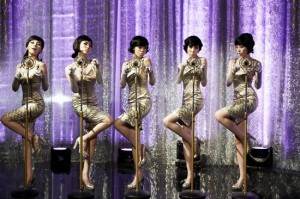 The Wonder Girls are a South Korean pop group. They first became popular in 2007 when they had a hit song called "Tell Me". The band continued to gain noterity in 2008 with several more hits, including "So Hot" and "Nobody". In 2009 they broke into the American music scene with "Nobody".
The Wonder Girls was formed through auditions on a show called MTV Wonder Girls. In 2007 several members of the group suffered health problems, but the girls seemed to have bounced back and are headed for stardom.
The Wonder Girls are currently working on their debut English album, which is set to have the English version of 6 of their Korean songs as well as 6 other brand new songs. The album will be released in February 2010 and The Wonder Girls will be going on tour in January 2010. The girls are currently collaborating with producer Dave Stewart who used to be part of the popular band the Eurythmics.
Tonight, The Wonder Girls performed on So You Think You Can Dance and I'm pretty sure the song they are singing "I Want Nobody But You" is the English version of "Nobody".
You can view the video of their appearance on So You Think You Can Dance below. You can also check out The Wonder Girls' official website.