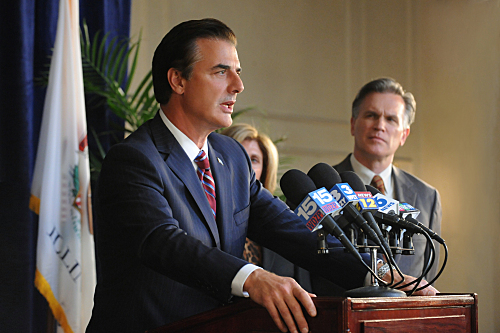 It was couples-night on the season finale of The Good Wife: Not just Alicia and Peter and Alicia and Will, but also Will and law-student Giada, Diane and Gary Cole's McVeigh, Kalinda and FBI agent Lana, and even Eli Gold and Peter's mother, who proved to be two peas in a pod, give or take a little veiled antisemitism. How did you react to the Alicia-Will-Peter cliffhanger?
Me, I thought it was just dandy. I don't mind being teased into next season, not after all the rich conversation we were given leading up to the hour's final moments. Will had a few gulps of wine to give him the courage to call Alicia at the very moment she was to go onstage and play the Good Wife beside newly-announced States Attorney candidate Peter Florrick. That call yielded Alicia-style eloquence that was thoroughly believable, even under her stressed circumstance.
'Show me the plan,' she said bluntly. Will was caught off-guard. A romantic single guy, he was hoping the allure of sweet talk and nostalgia for What Never Was But Might Still Be would prove sufficient to persuade Alicia to come a-runnin'. But Alicia has learned: 'Poetry is easy; it's the parent-teacher conferences that are hard.' In other words, put up or shut up, buddy; I'm in the midst of a life here, and I'm open to suggestions, but you've got to be serious with me. This is the kind of thing that lifts The Good Wife into another level of domestic drama; you just don't see adults grappling with such a familiar nighttime-soap topic with the sort of terse realism that somehow makes the entire scenario seem even more romantic.
To Read More Click Here.