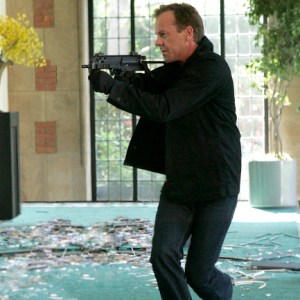 It's still six months away, but since 24 pretty much kicked ass in the seventh season--well, because it failed to in the sixth--suddenly the anticipation for the eighth is higher than it should be. And it's a good thing. If you have big names joining your show, and are coming off a resurgence of sorts, then you must be feeling comfortable--at least until the bombs start exploding. Here, then, are some more details about what could happen on the upcoming season of the show, collected from a handful of places and put together... because we can. Somehow. If you don't want details, go skip this now, quick!
First up, Kiefer Sutherland, who talked to Entertainment Tonight and spilled some bits about what we should expect in the new season, which premieres in January. "One of the things that's exciting about season eight for us, which is different from all the other seasons is it's directly connected to the end of season seven," he said. "Normally there's a year or two break between seasons, between story lines--and this year that is not the case."
And the fact that they're shooting in New York has given the series a boost of sorts, too. "There's a real tangible energy you can't deny that about New York City," he said. "The situations have always made Jack Bauer speak really quickly, and now he runs really quickly because in New York you've got to do that."
The latest season, he says, has the most realistic storyline they've done in the show. "It centers around peace conferences taking place at the UN between the president of Iran and the President of the United States, which I believe is possible within the next few years," he told TV Guide Magazine. "Obviously there will be a lot of people who will want to fight that. This is about fighting off that threat to peace."