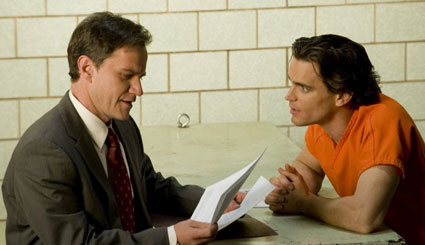 Talk about using pain as your muse.
Though there are certainly echoes of movies such as "Catch Me If You Can," "48 Hours" and especially "Lethal Weapon" all over USA's new hit, "White Collar," one of the series' most distinctive elements wasn't brought on by a writer's love of a good caper. Rather, it was sparked by creator Jeff Eastin's divorce.
At the time he was penning his pilot about FBI Agent Peter Burke (Tim DeKay) and convicted con artist Neal Caffrey (Matt Bomer) who become an unlikely crime-fighting duo, Eastin and his wife had separated. In the traumatic wake of his personal life, Eastin soon felt that resident dreamboat Caffrey was a little too perfect. So, in a move that transformed the cunning criminal into a romantic hero, Eastin decided that Caffrey's girlfriend would leave him just months before his prison sentence was set to expire.
To Read More Click Here.