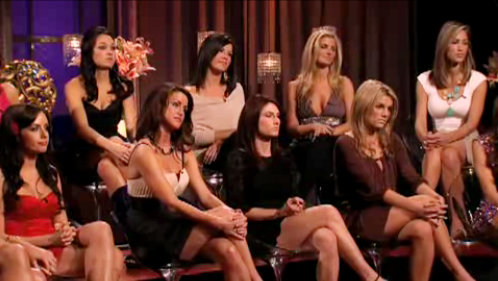 On this week's episode of The Bachelor, the women (minus Tenley and Vienna) reunite to reflect back on the season, and Rozlyn returns to share her side of one of the series' biggest scandals.
The first half-hour is pretty much all filler footage. Let's relive the most dramatic moments of the season viewers have seen too many times already! Aw, look at past Bachelor and Bachelorette contestants hanging out in Vegas together and giving back to the less fortunate (gee, I wonder if that's tied at all to the upcoming Bachelor spin-off Bachelor Pad?!).
When the attention finally comes back to the ladies, Gia is the first to talk with Chris Harrison one-on-one. However, her time is pretty brief. She says she knows what she did wrong in not being more forth-coming about her feelings with Jake but was hoping he would just know how she felt. She's upset still but hardly devastated.
Before she comes to the stage, looking back at footage of the woman I affectionately call "crazy eyes" (aka Michelle) is even more painful the second time around. Everything from her incessant references to wanting to be Jake's co-pilot to the awkward kiss they shared right before she gets the boot. I am still confused as to why she was so surprised about being sent home when she suggested it herself (and also had already packed her bags once). Now Michelle says she understands why Jake sent her home and would have done the same. She's also realized going on national television isn't the ideal way to fall in love (duh). However, she's still defensive about her former housemates and cast mates for saying she needed a therapist more than a husband and seems to still have some of the same issues from before.
To Read More Click Here