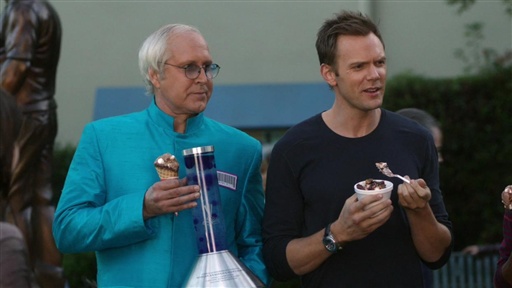 As Annie and Britta attempt to raise money for the oil spill, Jeff has just come from giving blood. As he puts it, even a Ferrari needs a tune-up. But all of this is over-shadowed by Troy seeing a dead body - Pierce's mother. Fortunately (right?), Pierce sees her as alive through his Buddhist journey (she is also a Level 5 Laser Lotus).
I would like to begin my viewing of Scene 2 by pointing out that Annie and Britta seem to be wearing the same t-shirt. I hope this plays into our story or the Community writers are just messing with me. Anyway, as the group attempts to convince Jeff that a memorial service of sorts is necessary, he reminds them of how he respects everyone's religious beliefs, even Pierce's. As he puts it, "Can't everyone just be cool like me?"
Off to Anthropology class we go, and would it not begin better than with Ian Duncan taking over teaching duties and Chang rocking his way in to class to defend his honor? Boom! Chang comes equipped with a 25-foot restraining order (against himself). Of course, he sees this as an advantage until he's forced out of the class, later on, as Duncan makes his way towards Chang's desk.
To Read More Click Here.