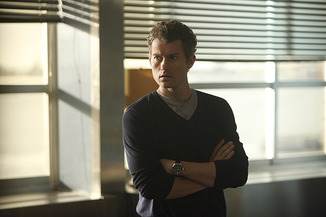 I'm going to go ahead and get all my complaining out of the way: Rubicon's episode titles are boring. They're standard conspiracy theory fare: "Connect the Dots," "The Truth Will Out," it's all standard. I think this episode should have been called "Fiedler on the Roof." Something funny, you know? Just to offset the humorlessness of the series itself (not that the humorlessness is a bad thing).
This episode had the danger of falling into cliche, but managed not to, which is always a good thing. So many shows have a 'lockdown' episode in which confined characters discover a truth about themselves; perhaps most recently House did so with the unsurprisingly titled "Lockdown." Luckily, the characters' confinement during an FBI sweep was not the normal television vision of lockdowns, and had a lot of breathing room - thanks, in part, to the wonderfully filmed polygraph test sequences.
To Read More Click Here.