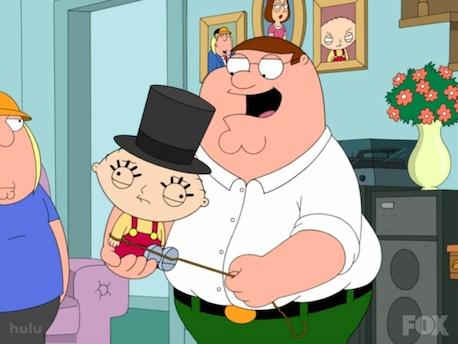 Family Guy began with a several minute Star Wars-esque space battle as Stewie and his co-pilot, Rupert, attempted to take down the evil Peter spaceship. We're not sure if this was just a scene that got cut from the season finale or an excuse to show off their animation skills, but it served little more than a waste of screen time and an excuse to send Stewie into the basement.
From there, the episode split into two story lines. Stewie discovered one of Brian's old scripts in the basement, which eventually led to Brian getting his own CBS pilot. The story served as a pretty funny, albeit tame satire of television.
Some of our favorite moments from the Brian story line included the sycophant television executives: "I felt whatever the most senior executive in this room felt," any scenes with James Woods voicing himself and the ridiculous crap that comes out of his mouth, and Charlie Sheen and the rest of the cast of Two and Half Men's chance to defend themselves.
To Read More Click here.