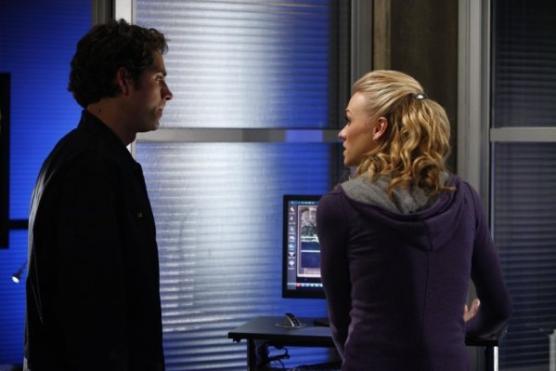 This week's episode of Chuck, "Chuck Versus the American Hero," was meant to be the penultimate episode of season three before NBC ordered an additional six episode, so going into you could expect some major game changers.
If you have not watched the episode, we're going to give a major spoiler alert. On last night's episode of Chuck, the big shocker of the season was that Sarah killed Shaw's wife during the "red test" and not the ring.
We can't help but think this means that Eve Shaw was a ring operative, or there'd be no other reason Sarah was assigned to kill her and that the Ring would have it on footage. We really hope this means there's actually something more to the Ring plot line of season three.
Since the start of the season, the Ring has been portrayed as far bigger and more sinister than Fulcrum, yet so far we've spent twelve episodes with them and all they've tried to do is kill Shaw. How important could this guy and his dead wife be?
We're going to hope that Schwartz and Fedak are going to use their additional six episodes to actually make the Ring a real national security threat with actual missions, besides trying to steal a pill.
To Read More Click here.