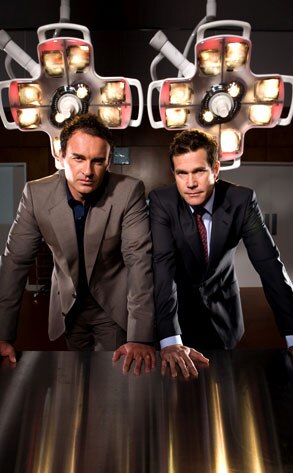 Sex, drugs and knife-wielding masked murderers - seriously, what more could you want in a television show?
After seven seasons of groundbreaking TV, salacious sudser Nip/Tuck closes McNamara/Troy's doors for good Wednesday, March 3, at 10 p.m.. And while our devotion to the one-time hit has waned a bit over the years, we're here to tell you that the series finale does not disappoint.
But fair warning, if you're looking forward to a signature Nip/Tuck jaw-dropping, cringeworthy conclusion, you may want to lower your expectations just a teensy bit...
We obviously can't spill too many juicy details, but we can tell you that the final hour of Nip/Tuck was unlike anything we'd anticipated.
Just to give you some insight into where our minds were prefinale, think blood, death and misery (Dexter's most recent finale) as well as storylines left wide open for interpretation, leaving no clear future for the characters we've grown to care about over the past seven years (Ã  la The Sopranos finale). But fortunately, not all of that stuff happens in the finale, which is entitled "Hiro Yoshimura."
To Read More Click Here.