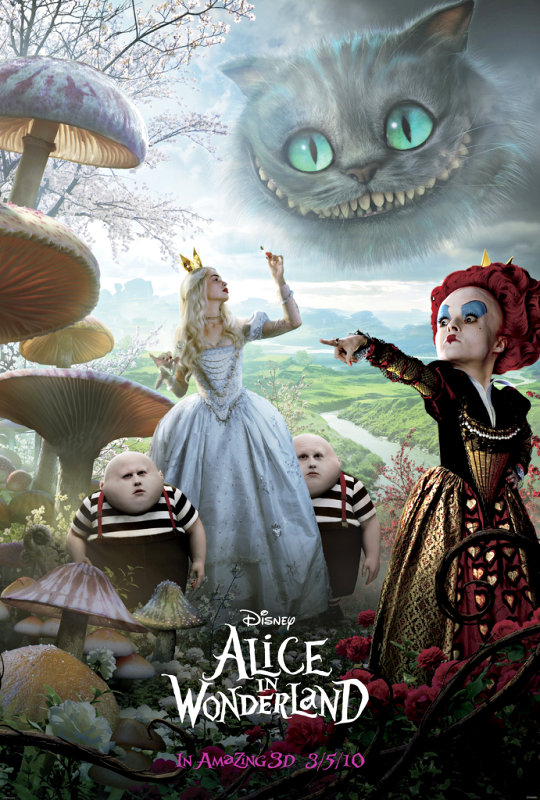 Walt Disney Pictures has unleashed the first poster for "Alice in Wonderland (2010)". Posted on the Facebook fanpage of the Mad Hatter on Monday, November 9, the new image is much the same with a scanned photo from an AMC Theaters promotional magazine that has come out the day before.
The official poster features the White Queen, the Red Queen as well as Tweedledee and Tweedledum. Along with the poster, there is a statement which mentions that there will be two more theatrical banners for the film. "I have three treasures for my subjects, but what kind of leader would I be if I gave them to you all at once? Here's the first - a morsel to appease," so read the message on the facebook page.
The previously released image, in the meantime, has given the first look at Alan Rickman's Caterpillar. It also features some other previously-exposed characters, including Alice, the Mad Hatter and the White Rabbit.
Coming from director Tim Burton, "Alice in Wonderland" will be an epic 3D fantasy adventure which offers a magical and imaginative twist on some of the most beloved stories of all time. It will center on 19-year-old Alice, who returns to the whimsical world she first encountered as a young girl, reuniting with her childhood friends. While embarking on a fantastical journey to find her true destiny, Alice will have to end the Red Queen's reign of terror.
Mia Wasikowska stars as Alice while senior actor Johnny Depp plays the Mad Hatter. Anne Hathaway and Helena Bonham Carter, meanwhile, will portray the White Queen and the Red Queen respectively. The film will be released in Disney Digital 3-D on March 5, 2010.