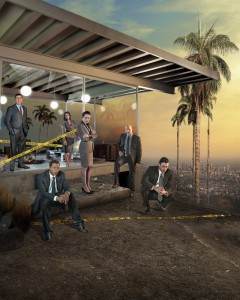 Count me as one of the people who rolled their eyes when NBC made the decision to axe the reinvigorated Law & Order right before it made TV history, only to replace it with this West Coast spinoff in the same timeslot. Why, I thought, do you get rid of a show that's getting its second wind...and then why do you replace it with a version of itself? It seemed a slap in the face to Law & Order fans.
The show didn't do itself any favors with its unorthodox opening sequence, which threw out the beloved Steve Zirnkilton narration in favor of just putting the show's logo over a black-and-white map of the Los Angeles area and the beat of some pop music. In fact, it makes the unfortunate choice to bypass an opening sequence altogether, going for the now-commonplace tactic of running credits over the first act. While for some shows this doesn't matter, Law & Order's opening is so iconic that it seems a sin of omission. In fact, series composer Mike Post is gone from this incarnation, despite doing the music for Law & Order, Special Victims Unit, and Criminal Intent. Yet that turns out to be just one of several major changes.
To Read More Click Here.