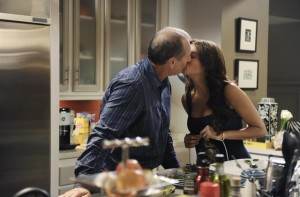 If you missed my review of last week's Modern Family season premiere, check it out here.
Modern Family received many accolades for its first season. From saving the sit-com to its portrayal of different family types with respect and aplomb, the show garnered kudos from many corners. If there was one criticism of the show, that morphed into a bit of a movement, it was the fact that Mitchell and Cameron, the loving same-sex couple, were never shown kissing or giving each other any show of affection other than a hug. For many of us who support same-sex marriage and an accurate portrayal of gay and lesbian relationships in the media, it was a bit odd that a series that seemed to have no hesitance in showing a loving, devoted same-sex couple, would not have them demonstrate the most common sign of love. The series' creators promised that a kiss for Mitchell and Cameron was always being planned, but it was with great excitement amongst many (though admittedly, not all. Just check out the comments in my previous review for an example of a differing opinion) that the title of this week's episode was greeted. The only question remained, how would a show with such great comic timing and a nice helping of pathos treat this semi-monumental moment? In my opinion, perfectly.
To Read More Click Here.