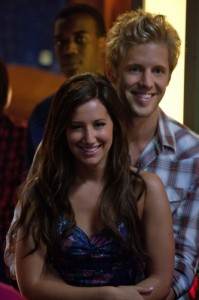 Meeting the Parents
Dan and Savannah have date number two, this time in sunshine and without alcohol in the mix, where they play movie trivia with each other. Right after a kiss ensues, Savannah's parents interrupt and Dan gets introduced as her boyfriend, much to the surprised look on Dan's face. The strain between the family is obvious as words are short, but Savannah's dad invites them for dinner. As they head back indoors, she confides in Dan that she hasn't had dinner with her family in almost a year. Dan admits that he's not exclusive and Savannah lies and admits that she's fine with him seeing other girls. She's a better liar then she lets on.
Savannah tells Dan that he doesn't have to go to the dinner, stating that news of a casual relationship would make her mom's head explode, but he convinces her that it's for the best. Once she leaves, Marti confronts him on the exclusivity talk and she threatens him, saying she'll take a little off the bottom if he crushes her roomie's heart. Ouch!
To Read More Click Here.