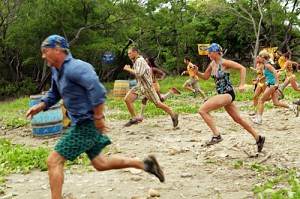 Did you miss last week's episode of Survivor: Nicaragua? Catch up with a recap here.
This week's episode begins with La Flor, chastened yet probably better off without a homophobic loud-mouth, returning to their camp. Alina mentions that Jeff said the tribe is divided so that they need to start working together. NaOnka confesses to the camera, though, that everyone was acting faker than faux fur. Everybody is acting like they are one big, happy family, but that couldn't be farther form the truth. She says that Alina, Kelly B and Fabio were shocked that Shannon was voted out (although, it appears NaOnka can't do math because there were only three votes against Brenda, so one of them, which ended up being Kelly B, voted against Shannon), so that they need to watch their backs, because they are going to get bit on the butt.
To Read More Click Here.