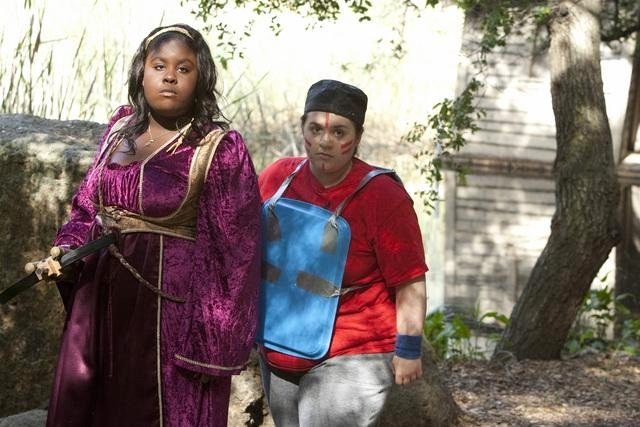 After an information overload from last week's episode of HUGE, I was hoping to see more plot development in this week's episode, entitled Live Action Role Play. I am ready to move forward after being inundated with clues about dysfunctional families, insecurities, and secrets. But this was not to be. The show continues to lay the ground work for the characters psyches. Self-doubt and uncertainty are major themes in this episode of Huge, centering specifically on Becca and Dr. Rand.
With Will's help, Becca starts a larping club, but in order to actually get people to join, Will completely changes Becca's rules and make-believe universe. At their meeting place, they run into Will's classmates who are from the tennis camp next door. Insert taunts and fat jokes here. Amber is accepted into the cool clique for a millisecond. She and Chloe have boys on the mind in the whole episode, and frankly are rather mean to everyone. In the middle of all the larping, Ian is perplexed by how to tell Alistair to take a shower. It turns out body image issues prevents Alistair from taking a shower in front of others. Finally, we learn that Dr. Rand has some sort of past relationship with the patronizing director from the tennis camp.
To Read More Click Here.