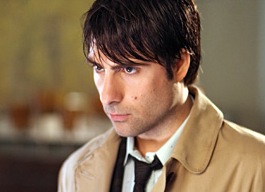 Last night wraps up the first season of Bored to Death and did they ever go off with a bang! Or should we say get off?!
Each of the three main character's got lucky with their desired suitors - Jonathan nailed his first crush since his ex - Stella, George rekindled a burning flame with his ex-wife Priscilla, and Ray finally had sex with his girlfriend Suzanne.
The hyped up fight was more that we expected it to be. Watching Ray get weirded out by his opponent was one of the most comical parts of the night. He nailed looking totally creeped out. It was awesome to see him be so excited to fight - to being completely okay with getting knocked out after one punch.
To Read More Click Here.