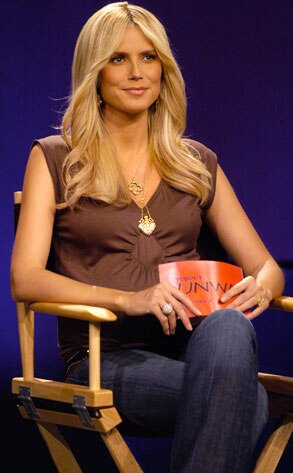 Given that being onTop Model won't make you one, is there any point in going on shows like Project Runway? Do any of these folks make a better showing in the fashion industry?
- Shane, Oklahoma
Oh, no, HE DID NOT just diss our girl Heidi Klum. Honey, that girl is 18 feet tall. She could step on your head and end your miserable ignorance with one cruel stomp of her Amazonian supermodel feet.
Did you see what she wore to the Globes? Do you understand that she has no fear?
But fine. I will answer your question.
Actually, Sydne Summer, associate editor of mystyle.com, will answer your question. "Winning Project Runway helps a designer dramatically," she tells me. "Christian Siriano is the best example, the reality show gave him the opportunity to rise to the top more quickly."
Project Runway is ensnared in a legal mess that might keep it off the air, but Tim Gunn is still thinking about his designers, even planning to film at New York's Fashion Week next month. He told New York magazine, "I want the designers on the show to get the exposure."
Season-two winner Chloe Dao won a spokesperson gig for Dove, Summer points out, and even finalist Laura Bennett was able to parlay her Project Runway experience into a line on QVC.
Read more here