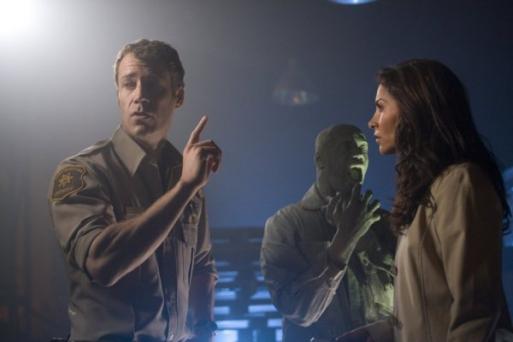 On Friday's Eureka, fans were treated to a taste of Joe Morton directing style as he took the reins on Stoned, which brought a much more literal meaning to the word that we use too.
I was so thrilled to see Zoe back from Harvard. It is amazing that she has gone from bratty to brainy in just four short years. It seems like only yesterday Carter was locking her in a jail cell after she ran away from her mom's house.
Speaking of four years, hallelujah, Carter finally asked Allison out on a real date. That's not to say I wasn't a bit worried when Allison had not seen their dinner as a date. I thought that they were going to stall in first gear and keep the "we should just be friends" standoff going a bit longer.
Never fear, for all those that have waited the four years and multiple timeline changes, your wait was rewarded with Allison and Carter doing some much needed kissing at the end of the episode and best of all, there was no change in reality to erase it.
To Read More Click Here.