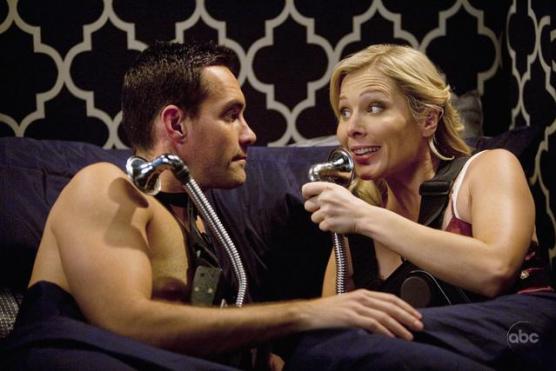 While not a biting office satire and clearly lacking a Veridian commercial, this week's episode of Better Off Ted was the funniest and most quotable episode of season two.
In "Lust in Translation," Veridan was attempting to partner with a German company on a new translation device, and Ted grew quite close with one of the executives, Greta (Stefanie von Pfetten) outside of the office.
The hilarious twist being that in order to improve the device's voice it outputs (what could be better than a 90 foot robot?), they switch it to Phil's voice and Greta refuses to keep sleeping with Ted or working with Veridian if he won't let her use the device in bed.
While not as original as other Ted plot lines, this one led to some great mistranslation lines, German jokes, and awkward moments with Phil's voice coming out of a beautiful blonde woman. We definitely felt the main story line led to some of the funniest moments of the season.
To Read More Click Here.