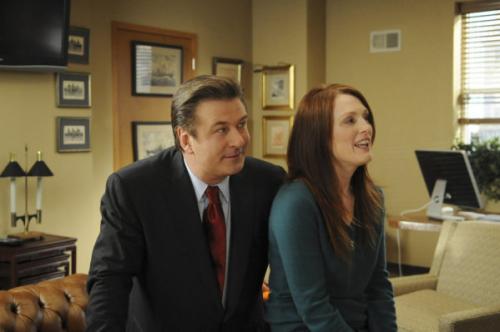 Thursday evening's installment of 30 Rock, entitled "Winter Madness," featured the TGS crew deciding to take a group trip to Miami to beat back a case of the Winter blues.
That sounded like a great idea until Jack overruled it and proposed that instead of sunny Florida, they travel from NYC to even-colder, less-friendlier Boston, Massachusetts!
Jack's ulterior motive was to see Nancy (Julianne Moore) of course.
The Boston-centric episode was hit and miss. The downside is that we prefer the standard TGS-based, show-oriented shenanigans. But the Boston aspect was entertaining.
So many times, shows resort to stereotypes that are annoying, name-drop the wrong locations, etc., but 30 Rock passed the Boston test with flying, often-hilarious colors.
If you can't find humor in Tracy getting into it with guys dressed as the founding fathers, well, you might want to check your pulse. We're liking the Jack-Nancy dynamic too.
To Read More Click here.