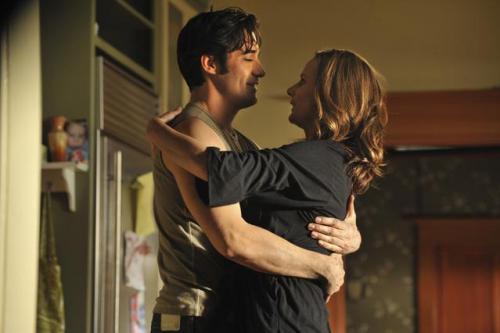 On every episode of Brothers & Sisters, there are family complications. Bumps in the road. Twists when you least expect them. Questions answered and left unanswered.
Last night exemplified all of these familiar themes as Luc's visa drama became a political hot potato and the stakes grew higher in the mystery of York and the Walkers.
Follow this link for a recap of "FreeLuc.com," then read TVF's review below ...
VISA: It's everywhere you want to be ... or something. Too bad Luc can't be where he wants to be because his is expiring. Wasn't Sarah going to marry him? Anyway.
Just as soon as Kevin puts in a call to an immigration lawyer at his old firm, protesters arrive at Kitty's campaign event. One sign reads "Frenchie Go Home!" Really?
Luc produces a letter from INS and proclaims he is legal now. However it happened, it's being tied to Kitty and Robert as some kind of political arm-twisting scandal.
To Read More Click here.