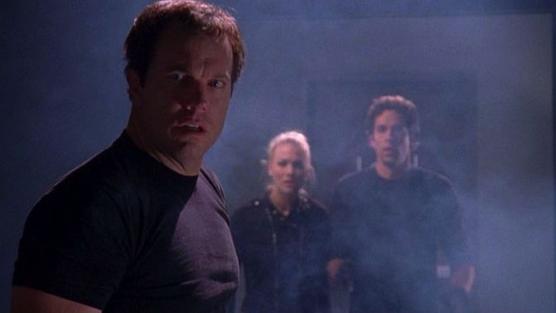 Holy Casey backstory! Now we thought last week's episode was going to be a tough act to follow, but Chuck seemed to have no problem with this week's installment.
You knew you were in for a good episode when "Chuck Versus the Tic Tac" opened with Robert Patrick guest starring in a flashback telling the story of how Alex Coburn became James Casey.
Since it's Chuck, we're going to forgive the silly video game-esque 15 level security the team had to test out, but it was definitely pushing just how cheesy we can forgive the show for being.
Other than that scene, this episode had plenty of phenomenal moments including the most impressive action scenes we've seen all season and possibly series. Sarah lowering herself from the car, spotting the number of badies on the matchbox Casey left behind, and then going 5-on-1? Not only hot, but also awesome.
Of course, what would goofy Chuck be without its share of comedy? Morgan definitely brought some of it with his silly, yet productive attempts at spying on Casey. But the scene we're giving the funny moment of the episode to is when Awesome and Morgan each realized the other knew Chuck's secret.
To Read More Click here.