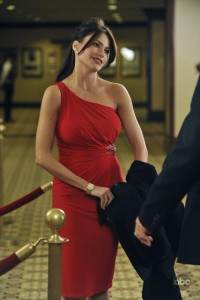 The myriad relationships and characters in 'Modern Family' make it the perfect show to spotlight all the difficulties one can face in love and romance. As Valentine's Day descends on our cast of characters, they each explore new ways to express how much they care about one another, and they each find challenges along the way.
Jay takes Gloria out for a romantic evening, though it's not the one she expects. Mitchell and Cameron, who've agreed to watch Manny for the evening, wind up helping him express his true feelings to the girl he pines for, after another boy took credit for his poetry and scored a date with her.
Claire and Phil find the inspiration to break their Valentine's routine and explore the world of naughty role-playing. Surprisingly, both of them turn out to be pretty good at it, though Claire perhaps takes it a little too naughty. Particularly when things take that inevitable turn to the absurd.
When Jay took Gloria to see a favorite comedian of his, David Brenner playing himself, she was reluctant to go; instead wanting him to take her salsa dancing. But she went along, and found herself enjoying the show. Everything was going great until Brenner started taking pot shots at their marriage, and particularly at Jay for being so much older. Like Gloria thought, it looked like Jay was concerned about how other people felt about their relationship, but he revealed instead that it was an insecurity that she would not want to continue being with him as he got older. I appreciate these genuine character moments in the midst of the comedy on the show. It helps make these characters and relationships feel that much more real.
To Read More Click Here