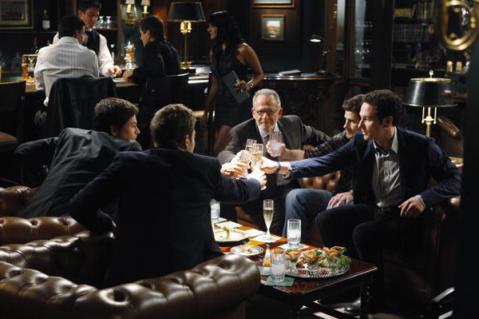 Unlike some episodes of Brothers & Sisters, there were just two main stories last night (not 5-6), with all of the characters all involved in them one way or the other.
Click here for a full recap of "Pregnant Pause." Below, we've written a brief review of the characters' story lines and why they worked or didn't do it for us this week...
Holly, Nora, Simon, Kitty and Sarah: Holly's broke and David lays it out for her: either scale back Justin and Rebecca's wedding or ask Nora for help paying for it.
This was predictable, but cute when they came to an understanding at the end. Maybe Nora was just more relaxed because of all the hot, shower sex she's having.
Watching Kitty's reaction, and then Sarah's and Kevin's, to the image of their mom getting her freak on was priceless. Walker phone trees never cease to amuse.
Be it out of jealousy or just plain intuition, Sarah starts Googling Simon to dig up dirt on her mom's new man. She "digs up" two malpractice suits against him.
Nora says she's well aware of it and accuses Sarah of being jealous. Also predictable, but a nice mother-daughter moment. Sarah gives Nora her blessing ... for now.
At the end, Kevin's been drinking the conspiracy Kool-Aid and looks into the lawsuits, saying he thinks Simon got his medical license revoked. To be continued ...
To Read More Click Here.