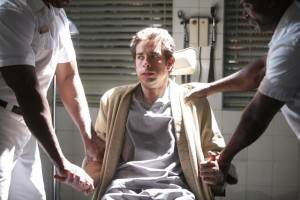 Did you miss last week's "Chuck vs. the Role Models?" You know what to do (read a recap here!).
This week's episode, "Chuck vs. the Tooth," begins with Sarah and Chuck enjoying an evening flipping channels at home. After a brief stop on a news report about the arrival of President Kuti of Zumibiya and his attendance at a Beethoven concert, Sarah confirms that there is nothing on. "Yeah, Monday night has been a bit of a wasteland," Chuck says (But, wait. Chuck is on Monday nights….OHHHHH!!! I get it!). Sarah lands on Spies Like Us, and Chuck extols the great skills of the spies portrayed therein. Sarah doesn't think anythingcan be learned from Dan Akyroyd and Chevy Chase's characters: they completely flout protocol and would end up dead in a matter of minutes. Chuck tells her that he was just kidding, but her silent smile lets Chuck know that she was kidding, too. Their shared laughter leads Chuck to look into Sarah's eyes and say, "I love you." Sarah continues her smile, but turns her gaze back to the television, without responding.
To Read More Click Here.