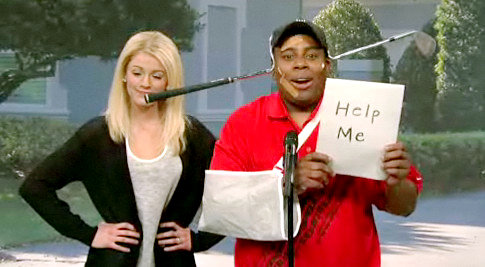 "Saturday Night Live" can't resist taking a swing out of Tiger Woods who is making headlines with his multiple-affair story. On Saturday, December 5, Blake Lively guest starred in a sketch as the golfer's wife Elin Nordegren who accompanies Woods, played by Kenan Thompson, in a press conference to address their marital woes.
Introduced by Jason Sudeikis who plays Wolf Blitzer of CNN's "Situation Room", Woods has several bruises during the first press conference. And when he has a slip of tongue about having more than one mistress, the skit is cut into a breaking news of Woods admitted to hospital. As the skit proceeds, he has more and more injuries with the last one being hit with his own golf stick.
This skit is taking a jab at Woods' statement last week which was, "I have let my family down and I regret those transgressions with all of my heart. I have not been true to my values and the behavior my family deserves. I am not without faults and I am far short of perfect."
Woods' family turmoil is also the subject of "Weekend Update" with anchor Seth Meyers. "Last Friday Tiger Woods hit a tree and a bunch of ladies fell out," Meyers jokes. Taking a jab at Woods' sponsors sticking by him even after the incident, Meyers comments, "...a gesture that only means one thing - women don't watch golf."