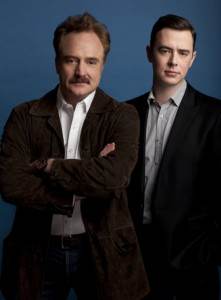 Jack and Dan are being shot at. These guys get shot at every week. The day before, they're stuck in the evidence locker organizing everything. If that's not enough, Liz's mom turns up – her car's been stolen and she wants Jack to find it. Also, Lee Thompson Young (FlashForward) guest-stars as a guy who's helping his brother sell guns to Guatemalans. I have no idea what any of these things have to do with each other, but that's usually how this show starts.
Liz is not too thrilled that her mom has recruited Jack and Dan. Dan has decided to plant a submachine gun from the evidence room on Liz's mom's front lawn. Jack doesn't know any better. Forensics finds a fingerprint on the gun that belongs to Lee Thompson Young's dead brother. "We have reason to believe that your brother is alive and well and has stolen the world's ugliest sedan," Jack says. Colin Hanks really is the master of deadpan line delivery.
To Read More Click Here.