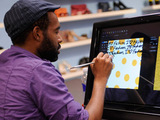 Tim Gunn meets the seven remaining contestants in the workroom and explains that this week the designers must design their own unique fabric and create an outfit from it.
Anthony is slightly worried as he does not typically work with prints. The others are more enthusiastic. Emilio seizes the opportunity for branding and creates a graffiti print with his own initials. Mila's design is based on dripping paint, although Anthony thinks it looks more like Lego.
While waiting for their fabrics to be printed, the contestants work on their designs. Emilio realises that he hates his own blue leather bustier idea and begins to take it apart. Maya admits that she "might be in trouble this time" with the print work and Anthony decides that Beyoncé is to blame for his difficulty with the challenge, explaining that her songs have raised his expectations to unrealistic levels.
To Read More Click Here