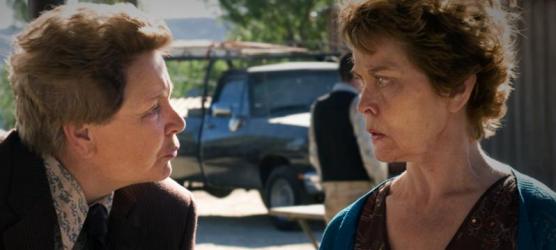 OMG!!! Did all of that really just happen?! Big Love really upped the ante last night on "Blood Atonement".
Many can argue that they thought that the episode was too busy, but we thought it was the perfect example of why we love this show so much. Chaos! Madness! And just plain ridiculousness!
Okay so to begin - we have to say we told you so. As big of a douche bag as Bill has been portrayed all season, he really showed us that he is in every way a good man. He could have easily left his rotten excuse for a father behind, but he didn't. Then, to sacrifice his own life to save everyone? Not many douche bags I know would ever do anything like that. Our hats are off to you this week, Bill.
Side note, it was interesting to find out the reason why Frank banished Bill all those years ago. I wonder if this could possibly be the beginning of a mended relationship?
What in the world was Margene thinking this week? Getting married to Ana's fiance and not even discussing it and the repercussions with any of the family? The more crazy acts she pulls, the more we believe that she does not want to be a part of the family. She has a striving business and can support herself and her children.
Not to mention, it looks like the love between her and Bill is not as steamy as it once was...we think that this will only be the beginning of her ripping away from the family (We are very saddened by this because Margene happens to be our favorite character).
To Read More Click Here