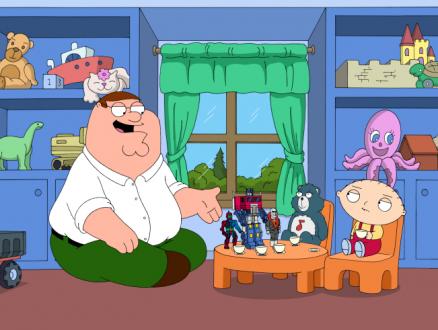 This week's episode of Family Guy, "April in Quahog" was supposed to feature the much-hyped American Dad crossover. Instead, we got an April Fool's Day joke ten days late and a pretty mediocre episode.
We're almost getting sick of having to defend Family Guy's right to have crappy plots week after week. This time around? The episode opened with an irrelevant Peter having jury duty story line. While we appreciate any excuse to sneak in Peter's rendition of "The Bird's the Word," did we really need to waste the first third of the episode?
From there, the episode became a doomsday scenario as a blackhole was set to swallow up Earth. The best joke was probably a rehashed one: Peter riding in on a lion he stole from the zoo. "Of course it bites, it's a lion!"
The whole intro two-thirds of the episode were set up just as an excuse for Peter to blurt out he doesn't like his kids. With only a third of the episode left and a heck of a story line to deal with, where did Family Guy go?
To Read More Click Here.