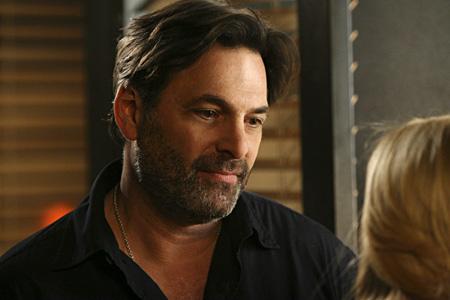 With the fourth season of Brothers & Sisters concluding in dramatic fashion Sunday, talk has already turned to what we can expect from the Walkers this fall.
Brothers & Sisters producer Ken Olin, who also plays David, looks ahead to Season Five of the hit drama in an interview with the L.A. Times. Excerpts below ...
On the dramatic, often dark tone of the season: "Because it was the fourth season, we wanted to be more dramatic, a little weightier in terms of stories."
"I think one of the things that's an important part of the calculation of a show that you're lucky enough to last is figuring out the rhythms for the seasons."
On the season finale cliffhanger: "Creatively, I think we knew for a long time that we wanted to have a big, dramatic event with an element of a cliffhanger this season. We wanted to leave everyone with the sense of possibilities and a lack of closure."
On Rob Lowe's departure: "That's a complicated subject. To some extent, it took me by surprise. I enjoyed working with him a lot. He was a real important part of the show and he's been a valuable asset for us. I loved [Kitty and Robert's] relationship."
To Read More Click Here.