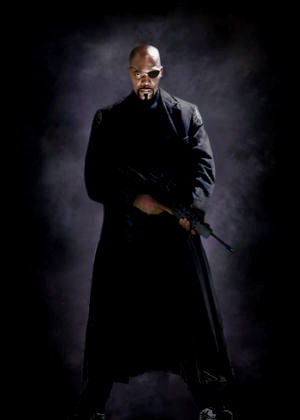 Fans will not see Nick Fury in action when "Iron Man 2" hits the theaters. Met during an event commemorating the 20th anniversary of Spike Lee's film "Do The Right Thing", Samuel L. Jackson, who has portrayed the S.H.I.E.L.D. chief in "Iron Man", told MTV News that Fury won't be seen kicking ass in the sequel.
"Not this time, not yet," the 60-year-old explained. "We still haven't moved Nick Fury into the bad-ass zone. He's still just kind of a talker." During the interview, Samuel also revealed that he has done filming his part for the project. He further added that most of his scenes were shot with Robert Downey Jr., although there were still several scenes in which he appears with Scarlett Johansson.
Samuel L. Jackson, who has signed a 9 picture movie deal with Marvel as Nick Fury, will also portray the character in "The Avengers", a movie which will bring together super hero characters of Marvel comics. When asked whether Nick Fury will be more aggressive in "The Avengers", the actor just answered, "Looking forward to that, yeah."
As for "Iron Man 2", the movie is set to be released in the U.S. May 7, 2010. This superhero film has Robert Downey Jr. reprising his role as Tony Stark. Some other stars who have been officially announced to join the project include Gwyneth Paltrow, Don Cheadle, Sam Rockwell and Mickey Rourke.