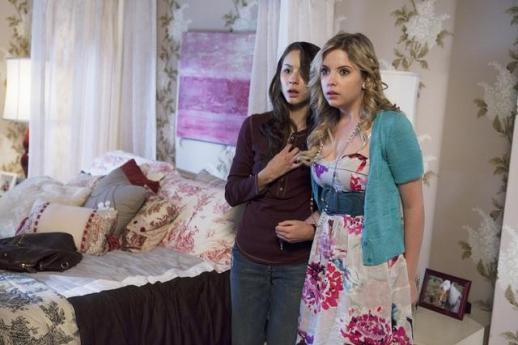 The stakes were raised for all four girls on Pretty Little Liars this week.
Following their plan to block electronic messages from unknown users, the main characters were faced with pressing developments in their personal lives, all of which were somehow documented by this mysterious presence. That was the basis for "Can You Hear Me Now," as reviewed below...
Mr. Fitz? More like Mr. Throws a Fit! My favorite part of the hour was Ezra's in-class explosion. It shows this character has the potential to be far more immature than the 16-year old he's inappropriately dating. While he and Aria eventually made up, let's hope this outburst is a sign of creepy things to come for Mr. Fitz.
It was also a welcome progression for Aria's mom to learn of her husband's affair. There's only so much we can take of Aria debating whether or not to reveal this tidbit, though her dilemma over it has been understandable. It's not a situation any of us would want to consider, but what would you have done in Aria's shoes?
To Read More Click Here.