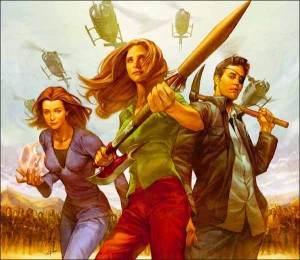 Since the release of the comic continuation of Buffy The Vampire Slayer in 2007, speculation of a TV or film continuation has been rife, be it in the form of spin-offs such as Buffy: The Animated Series or the recently announced Buffy The Vampire Slayer film, without the involvement of original creator Joss Whedon or the original cast. However, until now, nothing outside of the comic medium has surfaced. This changes with the release of Buffy The Vampire Slayer: The Motion Comic.
Since motion comics first became popular, opinion has been generally negative of their ability to tell a linear story without losing aspects of character or plot. Watchmen: The Complete Motion Comic received a very mixed response, with some disappointed at the fact that the entire cast was voiced by one actor, and others praising the animation involved. However, the Buffy Motion Comic lacks many of the faults highlighted within others, and proves to be an entertaining watch without degrading the characters established within 7 televised seasons.
To Read More Click Here.