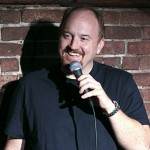 Louie has really hit its stride. I feel like it is destined to become the next Curb Your Enthusiasm, not so much in tone, but Louis C.K. is the first great television misanthrope since Larry David.
Tonight's episode dealt with travel. I haven't been on a plane in four years but I do remember how inefficient security was, I remember the general disregard for personal space and I remember stepping off that plane into the scorching and humid southern summer to the feeling that I was on a different planet.
The episode begins with Louie attempting to navigate the airport so that he can go do a set in Birmingham, Alabama. He also convinces the security to let him keep his bag despite having a liquid substance in it by being a little too forthcoming with what that liquid substance is used for.
To Read More Click Here.