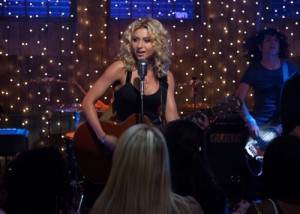 Tomorrow means a new episode of Hellcats, and today we have an advance review of "Nobody Loves Me But My Mother." Even if it was written by someone whose experience with cheerleaders consists of fighting with them in high school.
As that no doubt informs you, Hellcats is not exactly the kind of show I'd watch if I wasn't working on it. However, you can't give me a series with the underrated Gale Harold (in something that for once isn't dark or requiring him to be a complete jerk) and not get me curious, so I'll admit that I watched last week's episode, Beale Street After Dark, and was actually alright with it. This episode picks up somewhat where that one left off, with more complications thrown into the characters personal lives (as always): Marti (Aly Michalka) is doing a will they or won't they with Lewis (Robbie Jones), who gets mixed up again with Alice (Heather Hemmens) before Marti gets down off the fence - sound familiar? Savannah (Ashley Tisdale) gets forced to choose between her family and her boyfriend after her mom (the always great to see Teryl Rothery from Stargate: SG-1) disapproves of Dan (Matt Barr) - also pretty familiar. The capper is an open mike night Wanda (Gail O'Grady) throws to earn herself a promotion at the bar, which also allows Michalka an excuse to sing Sting's Brand New Day. Unlike Sting, I can actually understand more than every third word she says, possibly because you may remember she was one-half of the Disney pop duo Aly & AJ. Needless to say, no one is going to claim that Hellcats is reinventing the teen soap wheel.
To Read More Click Here.